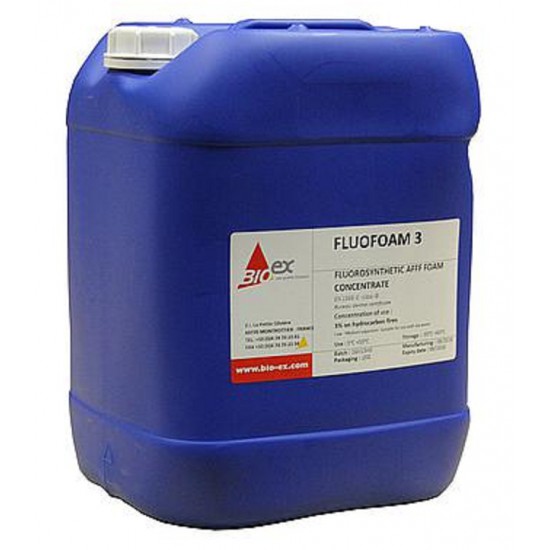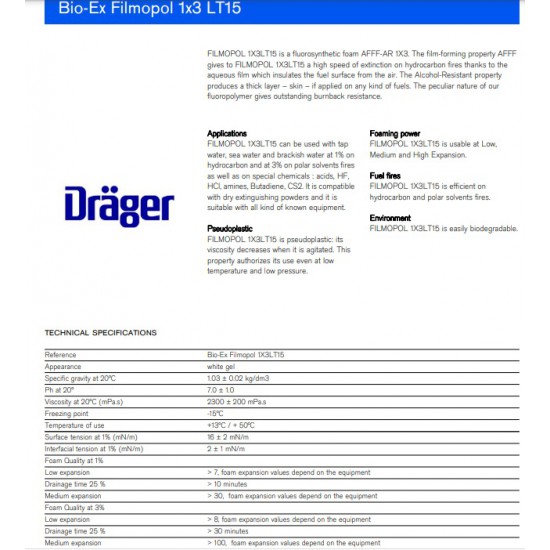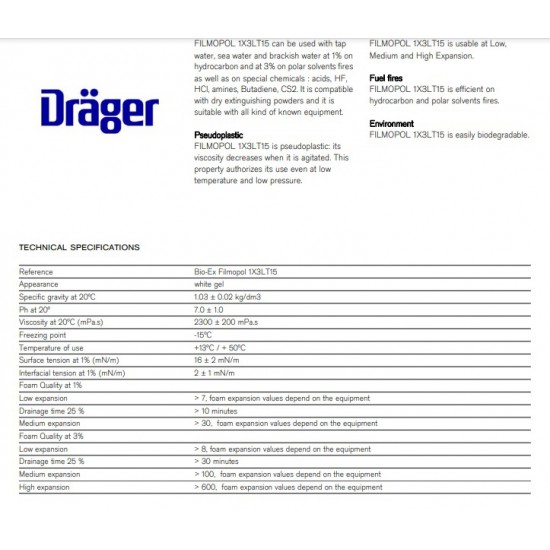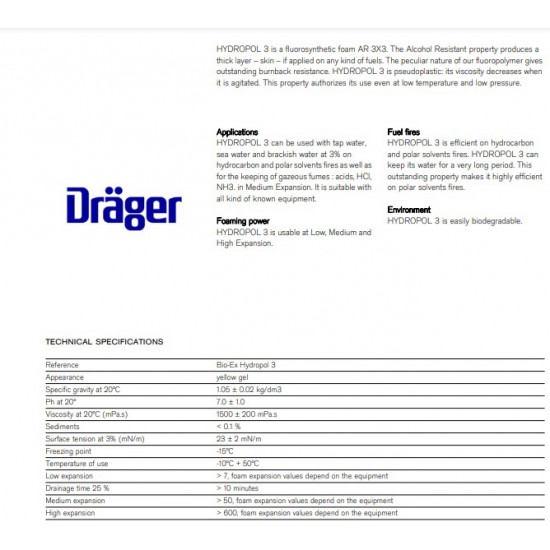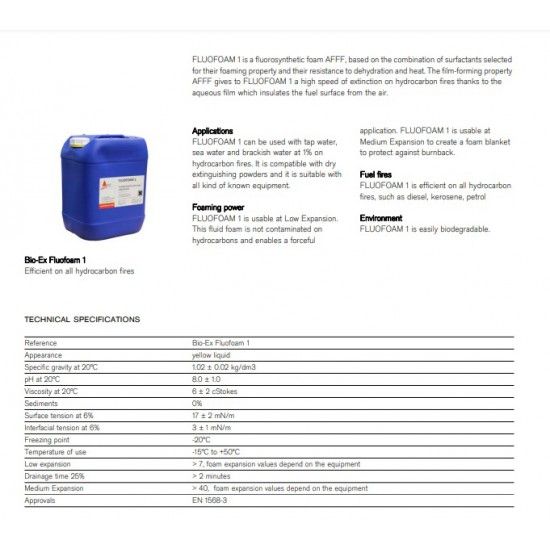 Foam Making Liquid - Drager Bio-Ex Fluofoam 3 25Liter QS
Stock:

In Stock

Model:

Foam Making Liquid - Drager Bio-Ex Fluofoam 3 25Liter QS

SKU:

KZ
Bio-Ex Fluofoam 3
FLUOFOAM 3 is a fluorosynthetic foam AFFF, based on the combination of surfactants selected for their foaming property and their resistance to dehydration and heat. The film-forming property AFFF gives to FLUOFOAM 3 a high speed of extinction on hydrocarbon fires thanks to the aqueous film which insulates the fuel surface from the air.
Specifications
Applications
FLUOFOAM 3 can be used with tap water, sea water and brackish water at 3% on hydrocarbon fires. It is compatible with dry extinguishing powders and it is suitable with all kind of known equipment.
Foaming power
FLUOFOAM 3 is usable at Low Expansion. This fluid foam is not contaminated on hydrocarbons and enables a forceful application. FLUOFOAM 3 is usable at Medium Expansion to create a foam blanket to protect against burnback.
Fuel fires
FLUOFOAM 3 is efficient on all hydrocarbon fires, such as diesel, kerosene, petrol.
Environment
FLUOFOAM 3 is easily biodegradable.
ReferenceBio-Ex Fluofoam 3
Appearance yellow liquid
Specific gravity at 20°C1.01 ± 0.02 kg/dm3
pH at 20°C8.0 ± 1.0
Viscosity at 20°C4 ± 2 cStokes
Sediments0%
Surface tension at 3%17 ± 2 mN/m
Interfacial tension at 3%2 ± 1 mN/m
Freezing point-5°C
Temperature of use0°C to +50°C
Low expansion> 7, foam expansion values depend on the equipment
Drainage time 25%> 2 minutes
Medium Expansion> 40, foam expansion values depend on the equipment
ApprovalsEN 1568-3, Bureau Veritas certificate