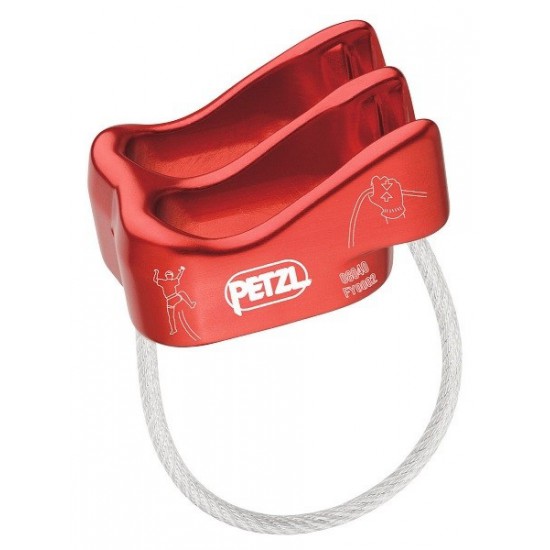 Belay Device - Petzl PD19 Verso
Stock:

In Stock

Model:

Belay Device - Petzl PD19 Verso

SKU:

KZ
VERSO
Petzl's lightest belay/rappel device with adaptive rope control technology
The VERSO belay/rappel device offers a lighter and more compact option for climbers looking to reduce the size and weight of their gear. V-shaped friction channels with asymmetrical side grooves adapt the rope friction for better control.
Description
Ultra-light design:
- hot-forged aluminum
- weight: 57 g
Single device for all ropes:
- 8.9 mm or greater diameter single rope
- 8 mm or greater diameter half rope
- 7.5 mm or greater diameter twin rope
ARC technology adapts to the diameter of the rope used by increasing or decreasing the braking friction on the rope according to its diameter and condition.
Better braking on thinner ropes
Adapted braking for efficiency with larger diameter ropes
Asymmetrical side grooves decrease friction when taking in slack for greater ease of use
Ultra-compact design is easy to use and doesn't take up much space on your rack
Rope friendly design. Separates the two strands of rope when belaying or rappelling with half/twin ropes This helps prevent the ropes from twisting or knotting.
Keeper cable will not get pulled into the device, and keeps it in the optimal position while also helping to prevent dropping the device
Usage diagram engraved on device for ease of use
Use with symmetrical shaped locking carabiners (Am'D or WILLIAM) to maximize efficiency no matter which end is closest to the device
Specifications
Weight: 57 g
Rope compatibility: for single rope (8.9 mm or greater diameter); half rope (8 mm or greater diameter) and twin rope (7.5 mm or greater diameter)
Material(s): hot forged aluminum body
References
References D19LI D19R D19TI
Color(s) lime green red titanium
Guarantee 3 years 3 years 3 years